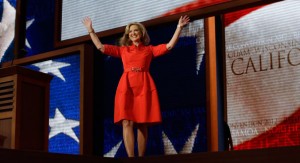 Ann Romney
Ann Romney
. What a partner she is for Mitt. Her speech Tuesday night was absolutely on target. Did you notice, she didn't mention Obama once? Didn't need to. Her job was to talk about Mitt, her husband and father of her five boys. She did that perfectly. Did you also notice that she didn't dwell on her own problems–the fact that she is battling multiple sclerosis and breast cancer? So how will the Democrats respond? Even though Obama says family members should be off limits, his attack dogs have consistently attempted to paint Ann Romney as a rich woman out of touch with Middle America. The fact is she IS Middle America. Her father was an immigrant from Wales who came to this country with nothing and rose to be mayor of his town. She did not grow up wealthy. And neither did Mitt Romney. As Ann Romney pointed out in her talk they struggled financially early on while Mitt attended both business and law school at the same time. Obama, on the other hand, got free rides and has plenty of time to indulge in recreational drugs, speak at anti-American, communist-backed protest rallies and generally goof off–which is why he has spent a lot of money to keep his college records secret.
Chris Christie.
Was this the rousing "Obama and the Democrats can go to hell' speech a lot of the delegates were expecting? No it wasn't. In weaving a lot of his personal life into his talk, Gov Christie did not follow the script many Democrats were predicting he would. His direct attack on Obama was minimal. Instead of the brash, no-holds-barred verbal punch-fest, Christie spent most of the time talking about being a Republican governor in a state controlled predominately by Democrats. One area where he fell a bit short, I thought, was his rather feeble attempt to sell Romney. His first mention of the Republican presidential nominee didn't come until some 15 minutes into his speech. Instead, he spent a lot of time talking about the direction the Republican party should be taking in the future. It was almost as if he were setting himself up to run in 2016. Maybe he was.
LIBERAL MEDIA COVERAGE.
In a word, the left-leaning mainstream media has done a mendacious job of covering the GOP convention.
One of the left's favorite attacks on the Republican Party is that it is the party of old white people, devoid of diversity and most likely racist. I hope you weren't watching MSNBC's coverage of the Republican National Convention Tuesday night. If you were you might be inclined to believe those assertions, because missing from the coverage was nearly every ethnic minority that spoke during Tuesday's festivities. But in case you were watching MSNBC and missed some of the best speeches here are what a few of these diverse Republicans had to say.
Mia Love
MIA LOVE.
Who is Mia Love? She is a 36-year-old black Mormon congressional candidate, exploded onto the national stage with her speech at the Republican National Convention on Tuesday night. Because nobody really knew who Mia Love was her name topped all others in Google searches Wednesday. Love is running against incumbent Rep. Jim Matheson (D) in Utah's newly formed 4th district and if she wins in November, she will become the first black Republican woman elected to Congress. Tuesday evening she talked about how her parents came to the United States from Haiti with "$10 in their pockets and a hope that the America they heard about really did exist." She said Obama was a president who didn't value entrepreneurship and added: "Mr. President, I'm here to tell you that the American people are awake, and we aren't buying what you're selling in 2012." She described Obama's vision for the country as a "divided one" that is "pitting us against each other based on our income level, gender and social status."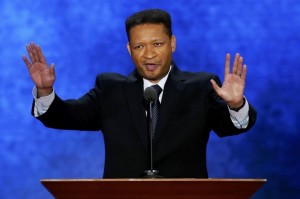 Artur Davis
ARTUR DAVIS.
Here is how petty the My Socialist NBC network (otherwise known as MSNBC) is. It declined to cover the rousing speech by former Alabama Democrat Rep. Artur Davis, who delivered one of the nominating speeches for Barak Obama at the 2008 Democrat convention. In 2010, Davis had seen enough and switched parties. "The Democrats' ads convince me that Gov. Romney can't sing, but his record convinces me he knows how to lead, and I think you know which skill we need more," Davis told the audience Tuesday night. He accused Obama of bamboozling voters four years ago with "flowery words" and charged that the incumbent has lost the "halo" his supporters thought he had in 2008. "America is a land of second chances, and I gather in this close race you have room for the estimated 6 million of us who know we got it wrong in 2008 and who want to fix it," Davis told the delegates.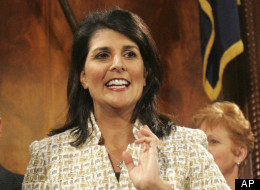 Nikki Haley
NIKKI HALEY.
The Republican Governor of South Carolina and the daughter of Indian immigrants delivered a blistering speech condemning Obama. "Don't tell me that my parents didn't build their business," Haley said, referring to Obama's "you didn't build that" remark a several weeks ago. "My parents started a business out of the living room of our home and, 30-plus years later, it was a multimillion dollar company," she said. "But there wasn't a single day that was easy and there wasn't a single day my Mom and Dad didn't put everything they had into making that business a success. So, President Obama, with all due respect, don't tell me that my parents didn't build their business." Haley then accused the Obama administration of launching an all-out assault on her state. "The hardest part of my job continues to be this federal government, this administration and this president," Haley said, going on to say that "Obama will do everything he can to stand in your way," even if you play by the rules."
GENERAL OBSERVATIONS.
Beyond the weird clothing and hats that seems to have become de rigueur at American political conventions
in the past few decades, I agree with House Speaker John Boehner: these things should be shorter. "I'm not sure that having a four-day convention, for the future, makes a lot of sense," Boehner said at a luncheon hosted by the Christian Science Monitor. He also suggested that the party platform should be cut down to one page. "Anybody read the party platform?" he asked. "I've never met anybody who has."
AMEN
Comments
comments